Current News
My next solo exhibition will be presented as part of the Wind Challenge Exhibition Series at Fleisher Art Memorial in Philadelphia this spring.
I'm absolutely pleased to be presenting all new work that I've been creating thanks to generous support from the Independence Foundation and a WInterthur Research Fellowship.
The exhibition dates are April 5 - May 10, 2019.
The opening reception will be April 5 from 6:00-9:00 p.m.
You can read more about the Wind Challenge Exhibition Series here: http://fleisher.org/exhibitions/40th-annual-wind-challenge-exhibition-se...


Recent News

Currently on View at The Print Center
Rebecca Gilbert: wonder
December 16, 2016 - April 22, 2017
Gallery Talk on Thursday, March 23, 2017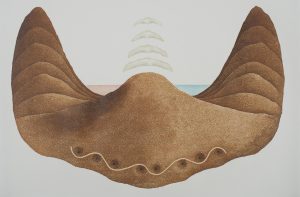 Rebecca Gilbert, Confluence, 2016
Rebecca Gilbert: wonder brings together new prints by the Philadelphia-based artist. Gilbert's works come out of her interest in both traditional print processes and her poetic response to the landscape.
This new body of work grows out of an artist residency Gilbert had in 2015 at OCHO, Questa, NM. During the residency she explored the countryside around Questa guided by a treasure map created in the form of a poem. It was created by a retired art collector living in Santa Fe named Forrest Fenn, who has hidden more than one million dollars in gold somewhere in the rugged nearby countryside. Gilbert's hunt for Fenn's treasure became an opportunity to take notes and make sketches of the beautiful landscape with its interesting rock formations and hidden petroglyphs, as well as of objects she found during her hikes. Those sketches were the starting point for the engravings and woodcuts in this exhibition. While Gilbert's treasure hunting activities are recent, her work has focused on gold in the past.
Gallery Notes, Rebecca Gilbert: Wonder >